Home » News
James O'Keefe's Failed CNN Prank: Stupid, Not Satire
Submitted by TT2025 on

September 29, 2010 – 4:22 pm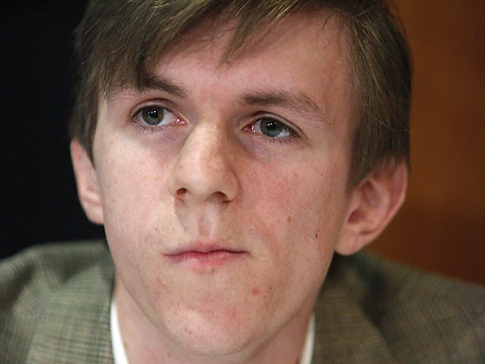 This morning, CNN investigative reporter Abbie Boudreau posted a blog entitled "Our Documentary Takes A Strange Detour." Boudreau has been filming "Right on the Edge," a documentary about young right-wing activists. As detailed in her blog, things took a strange turn when she scheduled an interview with James O'Keefe.
O'Keefe is best known for the widely circulated video of his meeting with ACORN where he posed as a pimp. He has been criticized for selectively editing his videos to misrepresent his subjects. When problems with his ACORN video came to light, I have to admit that I gave him a little more of a pass than some of the media because I figured that he was young and still learning. After hearing about his horribly unprofessional treatment of Abbie Boudreau, however, I have to speak out.
According to Boudreau, O'Keefe agreed to be interviewed for the documentary but had some logistical concerns he wanted to talk over. Boudreau traveled to Maryland to meet O'Keefe and his associate Izzy Santa.
This account of the events is taken from Boudreau's blog which can be read in its entirety here:

When I showed up, there was no office, as promised. Instead, he wanted to get me on a boat, which we later learned, was staged as a "pleasure palace." One of his colleagues, Izzy Santa, who was in Maryland that day, told me about the plan and stopped the punk before it happened.
Izzy told me he had "strawberries and champagne" waiting for me on the boat, and that he planned to "hit on me" the entire time. She said it would all be captured on hidden cameras that had been set up on the boat and in the back yard. She said the sole purpose of the "punk" was to embarrass me, and to make CNN look bad.
In a document obtained by CNN, O'Keefe's plot entitled "CNN Caper" was outlined in great detail. Their props list included Playboy magazines, a jar of condoms, Viagra, fuzzy handcuffs, and "80s romance songs." There was even a scripted introduction to be read by James. I have included the text below.
My name is James, I work in video activism and journalism. I've been approached by CNN for an interview where I know what their angle is: they want to portray me and my friends as crazies, as non-journalists, as unprofessional and likely as homophobes, racists or bigots of some sort…
Instead, I've decided to have a little fun. Instead of giving her a serious interview, I'm going to punk CNN. Abbie has been trying to seduce me to use me, in order to spin a lie about me. So, I'm going to seduce her, on camera, to use her for a video. This bubble-headed-bleach-blonde who comes on at five will get a taste of her own medicine, she'll get seduced on camera and you'll get to see the awkwardness and the aftermath.
Please sit back and enjoy the show.
The trouble is that Boudreau did not have to use trick editing or manipulating techniques to make O'Keefe look "unprofessional" or bigoted. He did a great job showing just how unprofessional and sexist he really is all on his own. Boudreau asked him to appear in a documentary because she wanted to tell his story and the stories of other young right-wing activists, and his response was extremely disrespectful. It is doubtful that any legitimate journalists will ask him for an interview in the future. Why should they? They might be subjected to the same treatment as Boudreau, and they won't feel like traveling out to Maryland and wasting their time.
Some might argue that O'Keefe's stunt had the potential to be funny and that his humor is in the vein of The Daily Show or Borat. Like O'Keefe, The Daily Show and Borat use uncomfortable situations to elicit laughs, but the difference lies in their motivations and execution. The Daily Show and Borat give their subjects the right circumstances to do or say something stupid, and their jokes reveal truths about politics or human nature. O'Keefe's plan would have only worked if she had reacted in the way he had already scripted out, and his ultimate aim was "faux seducing her in order to screw her on television." In Borat and The Daily Show, it is supposed to be the subjects who look scummy, but in this case, it is O'Keefe himself who ends up looking sleazy.
This story bothers me on so many levels. I worry that Boudreau's story indicates the future of the news media. If young journalists follow the example of O'Keefe, they will be uninterested in reporting the news and helping their audience understand what is going on in the world, and they will waste all their time trying to embarrass people for no other purpose than to publicly humiliate them. The other reason why I felt compelled to write about this story is that this is a case of sexism at its worst. If a male reporter would have contacted O'Keefe, I am sure that he would not have been waiting on a boat with sex toys and champagne.
I want to know what the Tribal Truth readership thinks. Was O'Keefe's prank appropriate? Is he a shoddy journalist or a misunderstood satirist? Comment below, and let us know what you think!
Tags: Abbie Boudreau, ACORN, activist, Borat, CNN, CNN Caper, documentary, filmmaker, Izzy Santa, James O'Keefe, journalism, media, News, Our Documentary Takes a Strange Detour, Right on the Edge, satire, social change, The Daily Show