Home » News
Sound+Vision: At War
Submitted by TT2025 on

September 27, 2010 – 4:11 pm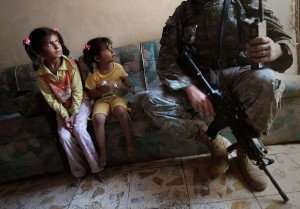 Pulitzer Prize-nominated photojournalist Chris Hondros is teaming up with musician Kenneth Hamrick for "Sound+Vision: At War," a musical/photographic media experience on September 29 at the Gerald W. Lynch Theater.
"Sound+Vision: At War" pairs up Chris Hondros' photographs from the wars in Iraq and Afghanistan with the music of Johann Sebastian Bach performed live by Fusion Bande. In addition to the performance, there will be an exhibit of the photographs in the Gerald W. Lynch Theater lobby from September 27 through October 12, and after the September 29 performance, the theater will host a Q&A session with the featured artists.
"There will be images of fighting and of casualties," says Hondros, "but most of it will explore day to day life among the Iraqi and Afghan civilians and also the US troops sent to these places on a hazy mission." The exhibition will cover religion, soldiers, the wounded, prisoners, and even play in Iraq and Afghanistan.
"Sound+Vision: At War" will be performed on September 29 at 7:30 at the Gerald W. Lynch Theater. Tickets are $20 to the general public, and CUNY students can get in free with student ID. Go to http://74.205.89.34/acalendar/EventList.aspx?view=EventDetails&eventidn=2665&information_id=8602&type= to read more about the event, and go to http://www.chrishondros.com/ to read Chris Hondros' bio and view a gallery of his work.
Tags: Afghanistan, art, children, Chris Hondros, collaboration, education, empowerment, Fusion Bande, Gerald W. Lynch Theater, human rights, Iraq, Johann Sebastian Bach, Kenneth Hamrick, music, photographer, photography, photojournalist, poverty, religion, schools, social change, Sound+Vision: At War, theater, theatre