Home » Global Initiatives
End Sex Trafficking and Violence Against Women
Submitted by TT2025 on

August 18, 2010 – 11:31 am
Human trafficking is modern day slavery. Every year, hundreds of thousands of men, women, and children are kidnapped or tricked into believing that they are going to find work in another city or country. Their passport, papers, and identification are taken away by their captors, and they are forced into labor or sex trade, usually for no pay. Anti-trafficking groups rescue and rehabilitate victims, and as part of rehabilitation, most groups provide educational opportunities and vocational training.
Some of the groups listed below focus on rescuing and rehabilitating victims. Others educate the public about human trafficking. Others prosecute traffickers and fight for tougher trafficking laws. All of these elements are important to ending human trafficking. Read more about each organization below, and find out what you can do to help.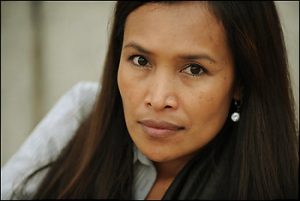 Not For Sale Campaign: Not For Sale  is a network of activists working to end human trafficking, both in labor and in the sex trade. They utilize technology to keep in contact with activists around the country and around the world, and together they come up with innovative ways to inform the public and rescue victims.
Abolish Slavery: Abolish Slavery rescues men, women, and children from slavery and provide educational opportunities and vocational training. They work in Haiti, Cambodia, Mexico, Armenia, Burma, Israel, Iraq, Sudan, and the United States.
AFESIP Cambodia: AFESIP Cambodia works strictly in Cambodia. Founded by Somaly Mam, a woman who escaped the sex trade, AFESIP Cambodia's main goals are to rescue women and children from slavery, rehabilitate them, and reintegrate them into society. They also follow up with victims and make sure that they are adjusting to their new lives.
Somaly Mam Foundation: The Somaly Mam Foundation was founded by Somaly Mam and Air Force graduates Jared Greenberg and Nicholas Lumpp. The Somaly Mam Foundation is based in the United States and supports AFESIP Cambodia as well as other organizations throughout the world that are fighting against sex trafficking.
ECPAT International: ECPAT International conducts research. They pass their information along to action groups and put together training programs for local police.
Equality Now: Equality Now educates people all over the world about sex trafficking and violence against women. They also encourage communities to stage protests and pressure their local government to take stronger action against sex trafficking.
New Light India: New Light India provides education and job training to women in the red light areas of Kolkata. Their organization also puts a special emphasis on preventing the spread of HIV and providing medical treatment for HIV-positive women.
Libertad Latina: Libertad Latina provides facts and information on sex trafficking and violence against women in Latin America, the United States, and the Caribbean. They focus specifically on Latin American slavery.
Made By Survivors: Made By Survivors provides employment for survivors of sex trafficking and helps them build their own businesses.
The Polaris Project: The Polaris Project combines direct outreach and housing for survivors with pushing governments to enforce stronger anti-trafficking laws.
International Justice Mission: The International Justice Mission provides legal support to victims of sex trafficking and fights to bring perpetrators to justice. They protect the victims while also preventing these predators from exploiting more women and children.
Shared Hope International: Shared Hope International educates the general public about slavery and sex trafficking while also working with rescue and rehabilitation efforts all over the world.
GEMS: GEMS works in New York State with survivors of domestic trafficking and the commercial sex industry. They also educate the general public about child prostitution in New York City through the documentary film Very Young Girls.
Apne Aap: Apne Aap organizes local anti-trafficking groups and gives them the tools to rescue victims and fight sex trafficking. They also publish research findings in their newspaper Red Light Despatch.
Tags: Abolish Slavery, AFESIP Cambodia, Africa, Apne Aap, Cambodia, children, collaboration, community empowerment, documentary, ECPAT International, education, empowerment, Equality Now, filmmaker, GEMS, girls, HIV, human rights, human trafficking, India, International Justice Mission, Latin America, Libertad Latina, Made By Survivors, New Light India, New York City, Not For Sale Campaign, philanthropy, poverty, Red Light Despatch, sex trade, Shared Hope International, slavery, social change, social entrepreneur, solutions, Somaly Mam Foundation, South Africa, The Polaris Project, women