Home » Global Initiatives
Same Sky
Submitted by TT2025 on

August 10, 2010 – 11:09 am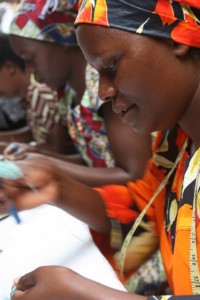 Surviving the 1994 Rwandan Genocide was a miracle, but life afterward was difficult for many women, particularly women who were HIV-positive. Same Sky is a "trade-not-aid-initiative" that gives these women the opportunity to be self-sufficient by learning how to crochet and make beaded bracelets.
Through Same Sky, the artisans make ten-times the average wage of women in the region, and they receive an additional stipend for their travel to and from work as well as a meal during the workday. They can buy medicine, food for their families, and cover their daily expenses, and their job gives their lives consistency and stability after the traumas that they lived through.
Artisans' Stories
Bracelets and fabric wraps can be purchased through Same Sky's online store at http://samesky.myshopify.com/. To learn more about Same Sky, go to their website at http://www.samesky.com.
Tags: Africa, AIDS, art, bracelets, collaboration, community empowerment, education, empowerment, healthcare, HIV, human rights, jewelry, New York City, philanthropy, poverty, Rwanda, Same Sky, social change, social entrepreneur, solutions, women