Home » News
Stop the Execution of Sakineh Mohammadi Ashtiani
Submitted by TT2025 on

November 4, 2010 – 1:45 pm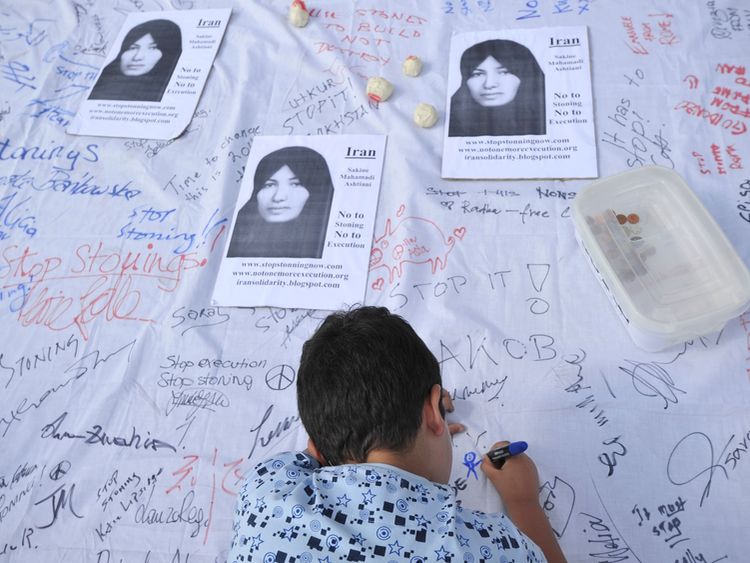 Stoning is a punishment that many people associate with the Old Testament and times long past, which is probably why the story of Sakineh Mohammadi Ashtiani has shocked world leaders and human rights activists alike.
Sakineh made the news this past year when the Iranian government sentenced her to death by stoning for cheating on her late husband. Since then, the Iranian government has been pressured by human rights groups like the International Committee against Stoning and Amnesty International and world leaders from Brazilian president Luiz Inacio Lula da Silva to United States president Barack Obama. Her execution has been delayed several times, and now officials are saying that they plan to hang her instead, claiming that she was also involved in her husband's death. Sakineh's lawyer Houtan Kian has denied the murder charge and has since been arrested and imprisoned.
The story of Sakineh brings up many of the on-going sources of tension between the Iranian government and Western countries like the United States, Germany, and France. The Iranian government is hostile towards the news media as evidenced by their arrest of two German journalists not to mention the hundreds of other journalists and bloggers who have been imprisoned indefinitely. It also brings out the differences between countries run by an extremist form of religion and countries like the United States which have separation of church and state, ensuring the protection of all its citizens no matter what faith they ascribe to.
The treatment of Houtan Kian, Sakineh's lawyer, is also notable as lawyers in Iran daily face resistance for trying to fight for justice for their clients. For a better understanding, Iranian lawyer Shirin Ebadi's book Iran Awakening is a powerful insight into life in Iran for women and those working in the legal system, and Ebadi's story helps outsiders understand why someone would stay and fight for a better Iran.
For now, the Iranian government continues to delay Sakineh's sentence and refuses to confirm when they plan to execute her, whether she is still under investigation, or what the is the status of her charges. The good news is that there is still hope. Wednesday's planned execution was canceled after protests were staged around the world and Denmark, Finland, Iceland, Norway, and Sweden appealed to the Iranian government on Sakineh's behalf. Amnesty International is encouraging people to write letters to the Iranian government asking for them to release Sakineh. Brazil has offered her asylum, and if the Iranian government releases her to Brazil, they will avoid anger and fall-out from other countries as a result of her execution.
Tribal Truth wants you to get involved. Write a letter, organize a protest, and speak out for Sakineh Mohammadi Ashtiani! Also, make sure to comment below and tell us what you plan to do!
Tags: Amnesty International, Barack Obama, Brazil, collaboration, culture, death penalty, Denmark, education, empowerment, execution, Finland, France, Germany, girls, grassroots, hanging, Houtian Kian, human rights, Iceland, International Committee against Stoning, Iran, Iran Awakening, journalism, journalist, lawyer, Luiz Inacio Lula da Silva, media, News, Norway, Sakineh Mohammadi Ashtiani, Shirin Ebadi, social change, social justice, social networking, solutions, stoning, Sweden, Tribal Truth, United States, women