Home » News
Colbert Rally Stirs Up Record-Breaking Online Donations
Submitted by TT2025 on

September 14, 2010 – 1:02 pm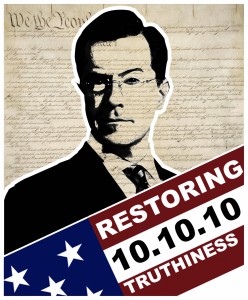 Glenn Beck's Restoring Honor rally got mixed reactions from the media with accusations of racism and fear mongering from the left and praise from the right. One Reddit user, however, has used a satirical counter-rally with Stephen Colbert to raise $95,000 for charity.
While The Colbert Report was on vacation, a Reddit user known as mrsammercer posted a blog suggesting that Stephen Colbert stage a rally with half a million people dressed up as "teabaggers…pretending to suspend all rational thought in unison." In an unlikely turn of events, other Reddit users jumped on board and designed a website for the rally. Visitors to the website were encouraged to donate to Donors Choose, a charitable organization that Stephen Colbert supports and serves on their board of directors. The flood of donations broke Donors Choose's server as well as Hillary Clinton's Donors Choose donations record of $24,945.
The website has caught the attention of Comedy Central and Stephen Colbert, and there have already been hints that Stephen Colbert might really be co-hosting a Restoring Truthiness rally with Jon Stewart.
To read more about Donors Choose and the Restore Truthiness Rally, go to http://www.stumbleupon.com/su/2m1rfN/newsfeed.time.com/2010/09/14/reddit-campaign-for-colbert-rally-breaks-charity-records//r:t, and to see the website for the rally, go to http://www.colbertrally.com/.
UPDATE:
As of 3 PM on September 16, the Restore Truthiness Rally website has raised $224,883 for Donors Choose, and Stephen Colbert sent a thank-you letter to the Reddit users who set up the Colbert Rally website.
Tags: collaboration, Comedy Central, Donors Choose, education, empowerment, Glenn Beck, grassroots, Hillary Clinton, Jon Stewart, mrsammercer, philanthropy, rally, Reddit, Restoring Honor, Restoring Truthiness, schools, social change, Stephen Colbert, The Colbert Report