Home » News
Clinton Global Initiative Annual Meeting
Submitted by TT2025 on

September 20, 2010 – 1:18 pm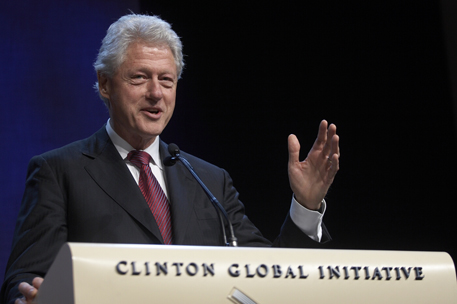 This week, the Clinton Global Initiative will be having their annual meeting in New York City. Leaders, philanthropists, and great minds from around the world will be hosting sessions on a wide range of issues including human trafficking, climate change, education, and economic empowerment.
On Monday, Secretary of State Hillary Rodham Clinton and CBS Evening News anchor Katie Couric will be speaking on improving access to health care and educational opportunities for girls and women, and Matthew Bishop of The Economist will be hosting a session on economic empowerment with Governor Jennifer Granholm and Rajiv Shah from the U.S. Agency for International Development. Attendees this year will include Madeleine Albright, Lance Armstrong, and New York mayor Michael Bloomberg.
The Clinton Global Initiative meeting is by invitation only, but the general public can watch the plenary, special, and breakout sessions on the Clinton Global Initiative website at http://cdn2.clintonglobalinitiative.org/.
Tags: CBS Evening News, children, climate change, Clinton Global Initiative, collaboration, community empowerment, conservation, education, empowerment, environment, girls, grassroots, healthcare, Hillary Rodham Clinton, HIV, human rights, human trafficking, Jennifer Granholm, Katie Couric, Lance Armstrong, Madeleine Albright, Matthew Bishop, Michael Bloomberg, New York City, philanthropy, poverty, Rajiv Shah, schools, Secretary of State, social change, social entrepreneur, solutions, sustainable environment, The Economist, U.S. Agency for International Development, women