Home » Global Initiatives
loveLife
Submitted by TT2025 on

August 2, 2010 – 2:22 pm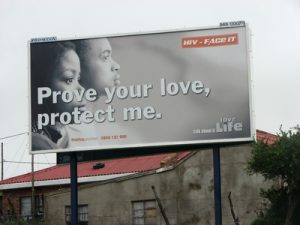 In South Africa, a country struggling to stop the spread of AIDS, loveLife is educating young people about safe sex practices while also addressing the reasons why young people choose to have unprotected sex.
On their website, loveLife states:
To tackle HIV in South Africa, loveLife believes that a broad, holistic approach is needed; one that goes beyond just safe-sex messaging. That's why we have turned our HIV prevention strategy towards addressing the social determinants of HIV: poverty; unemployment; lack of access to health care and education; low social solidarity; lack of self-worth, belonging and identity.
For over a decade, loveLife has made a difference in the lives of many young South Africans through school programs, clinics, and media campaigns which utilize TV, radio, print, the Internet, and outdoor advertising like the billboard pictured above.
To learn more about loveLife and how to support their programs, click here or go to http://www.lovelife.org.za/index.php.
Tags: Africa, AIDS, children, collaboration, community empowerment, education, empowerment, healthcare, HIV, human rights, loveLife, social change, solutions, South Africa