Home » Humanitarians
Bwindi Orphan Development Centre
Submitted by TT2025 on

August 11, 2010 – 2:50 pm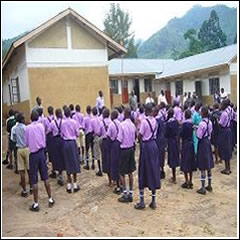 Uganda has a little more than half of the world's population of mountain gorillas, and environmental tourism in Uganda is being used to create social change for Ugandans.
As mountain gorilla tourism in the area became more popular, AIDS orphans begged for money from tourists, having no other means to earn money. Byamugisha Ignatius and Baseme Bridget founded the Bwindi Orphans Development Centre out of a desire to educate these children, teach them skills that will make them self-reliant, and encourage them to take pride in their Bakiga culture.
Some of the skills taught at the Bwindi Orphans Development Centre include singing, dancing, acting, producing crafts to be sold to tourists, and agriculture. The children learn how to earn money while at the same time getting involved in their parents' culture. Some of the orphans did not have the opportunity to learn native songs, dances, or cultural practices from their parents, so the Bwindi Orphans Development Centre helps them keep their culture alive in this way.
Click here or go to http://www.bwindiorphanage.org/ to learn more about the Bwindi Orphanage and make a donation.
To watch a short trailer about the Bwindi orphans and mountain gorillas click here
Tags: Africa, agriculture, AIDS, art, Bakiga, Baseme Bridget, Byamugisha Ignatius, children, collaboration, community empowerment, conservation, culture, dance, education, empowerment, environment, healthcare, HIV, homeless, human rights, philanthropy, poverty, social change, social entrepreneur, solutions, song, sustainable environment, theater, Uganda