Home » Humanitarians
Dana Arbib and Farah Malik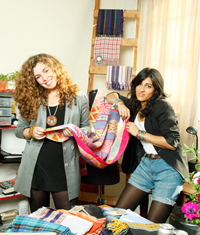 . Dana and Farah—the former a Libyan Jew and the latter a Pakistani Muslim—decided to put their love of accessories to good use for both the consumer and the artisan. The resulting fashion line, A Peace Treaty, began in 2008 with the goal to highlight the often under-appreciated work of hand-crafting cultures in politically unstable regions of the world."When we started in 2008, there was a growing understanding of eco-fashion but still not very much emphasis or attention was placed on the human rights implications in fashion production," Dana said. "A Peace Treaty is a social business setting up sustainable projects to revitalize cottage industries and family businesses at risk of closing down, but it also imparts knowledge, attitude change and a long-term readjustment within consumer culture and behavior."
Dana and Farah base their work on a community empowerment approach. By elevating the value of hand-crafting skills and lauding artisans who have been overlooked or have received less and less attention, they are reinvigorating local artisan economies and employing the artisans at wages up to eight times the local wage.
Dana and Farah donate nearly 10 % of their profits to  Counterpart International.
To see what accessories Dana and Farah are featuring go to apeacetreaty.
To learn more about Counterpart International click here
UPDATE - Congratulations  to Dana and Farah and A Peace Treaty. They are featured in the September issue of Oprah magazine. This exposure is going to help a lot of people .
Tags: accessories, apeacetreaty, community empowerment, Counterpart, Dana Arbib, Farah Malik, fashion, hand craft, human rights, Libyan Jew, local artisans, Oprah magazine, Pakistani Muslim