Home » Featured
Mousavian: Iran and US Have Serious Chance for Rapprochement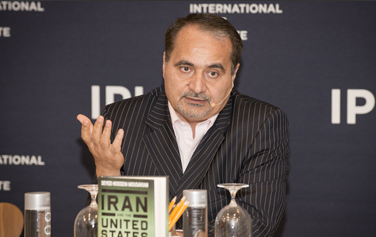 From Iraq to Syria, from energy to counterterrorism, Iran and the United States share many common interests across the Middle East and ought to put aside their decades of hostility, said author and former Iranian diplomat Seyed Hossein Mousavian.
Speaking at an IPI Distinguished Author Series event on June 25th featuring his book Iran and the United States: An Insider's View on the Failed Past and the Road to Peace, Mr. Mousavian said that both countries are to blame for their failure to reach a rapprochement after the 1979 Iranian Revolution, but that today's challenges in the Middle East are a unique opportunity for mending relations.
Mr. Mousavian said that in his book he had tried to explain the Iranian perspective of the relationship, a view that he said has so far been overlooked by the predominantly Western approach to US-Iran relations.
"Tehran and Washington have experienced one of the most—if not the most—dysfunctional relationships" in the international system, he said, "even worse than the relationship between the US and the Soviet Union or the US and Vietnam." Mr. Mousavian said that during these long years of hostility, "all Iranian administrations" and "some US administrations" have attempted to mend ties, "and they all have failed."
Read Full Story:
http://www.ipinst.org/events/speakers/details/557-mousavian-iran-and-us-have-serious-chance-for-rapprochement.html