Home » Featured
Rina Sherman's The Ovahimba Years: When Visitors Come.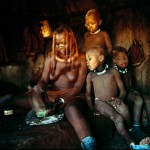 A film about the relationship between anthropologist Rina Sherman and an Omuhimba family with whom she lived for seven years, filming and photographing aspects of their everyday and ritual lives. Halfway through her tenure in the field, Sherman presented a multimedia exhibition, entitled The Ovahimba Years: Work in Progress in Windhoek, the capital of Namibia. A group of young people from the community of Etanga traveled to Windhoek to participate in the exhibition.
The film explores the evolution of this relationship that lead to the exhibition, shows the group of young people discovering the presentation of their cultural heritage at the exhibition, holding performances as part of the program presented, and shows the resulting discussions and consequences of the exhibition, once everyone is back in Ovahimba country. When Visitors Come is a film about an anthropologist in situ, and evokes several notions central to fieldwork, such as the nature of the bond between the observer and the observed, the observed observer, participant-anthropology and emotion as possible vector or hindrance in fieldwork.  Below is a short interview with Rina about the film.
Question 1:  This film is kind of a half way marker, not only with your stay in Namibia, but also in your development with the Ovahimba Tribe.  In the film you seem very at ease and comfortable with the tribe, how long did it take to attain reach that point with the Ovahimba?
Rina:  The film and exhibition featured in the film, « The Ovahimba Years: Work in Progress » (see also the catalogue), was at the time a half way marker. Since then, the years have gone by and other markers have come into being, of which, a photographic exhibition, Ovahimba Gaze: A Given Time, at the Sala Lippi in Perugia in 2009, and the ongoing discussion with the Bibliothèque Nationale de France to acquire the archives (unique) of my work with the Ovahimba. From the outset, my research brief (from my funders, The French Ministry of Foreign Affairs and the Ford Foundation among others), included the obligation to make my research results available to the academic community and the public at large. The question—how to render my experience and share the immense privilege of sharing the every day and ritual lives of the Ovahimba?—was present at all times and the film When Visitors Come and the exhibition was a first response to that and a half way mark of my seven years in the field.
Having grown up in the worst years of Apartheid South Africa, it was a transforming experience to live with people from Africa that had not been totally or too directly subjected to the segregationist policies of German, English and then South African colonization. The Ovahimba do not have a word in their language to describe themselves as "black", they simply say omundu for a person and ovandu for people. They do use the word otjirumbu to designate the Boers, Afrikaners and by extension any whites (odoitji for Germans), as they represent elements that are foreign to their culture. It was hence the first time in my life that I spent time with African people on an equal basis. The first years were difficult; I did not speak the language and had to rely on the interpretation of local assistants, which meant that I had to read between the lines to get a sense of what was actually being said. Once I had learned to speak the language, my rapport with people changed. Also, once they understood that my "no" was no and my "yes" was yes, trust developed. They also realized that while I stuck to my research brief and use of resources, I was also capable of getting up in the middle of the night to drive for as many hours as needed to get a sick person to hospital. Friendships and relationships of kin developed, I became adopted, by the Headman as his child, by his children as their siblings and by others as their friends; we worked, quarreled, partied , traveled and lived together. Time is the main factor in field work; it takes time. There is no possible compression of time. Personal disposition is another factor, once one accepts the Other as a possible self, the first step toward a human relationship is taken. I arrived for six months and stayed for seven years. The Ovahimba do not ask a visitor when he intends to leave; they simply welcome him and make do with the consequences. I have to pay homage to their exceptional hospitality, to accept me filming, photographing, recording their every day and ritual lives for seven years. Among us, who could do that? Not many people.
Question 2:  What was your reaction to the tribe's reaction when they were able to see your various documentation of them in exhibit form?  Did you have any preconceptions about how they were going to interact?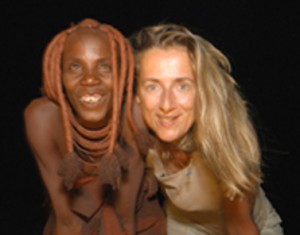 Rina:  The exhibition presented the first time for the Ovahimba to experience their culture as representation (see clip of Ovahimba discovering first soundscape of exhibition). As an oral based culture, the notion of representation does not exist in the same way for them as it does for us. Preparing the exhibition was most interesting; I had to explain that various aspects of my work on their culture would be "shown" at the "house of France," the Franco-Namibian Cultural Centre (FNCC) in Windhoek, for people to see and learn about it. Without having any prior experience in this regard, the group chosen among themselves from members of the family and community to accompany me to Windhoek, instantly understood what was expected of them. Kakaendona, the Headman's youngest daughter, a person of exceptional intelligence and leader of the group, organized everything, from presentations, conferences, instruments to dress. One day, shortly before the exhibition opening, I called here in a panic, reminding her to not forget to bring the embuita instrument, a drum for calling the spirits. She laughed disdainfully and said, "Hey, who do you think I am? Everything is ready!"
I was worried about how people in Windhoek would receive the exhibition. But the Ovahimba group proved to be excellent ambassadors to their culture; they remained calm under all circumstances and presented their culture with what one could only call "panache." The FNCC has a policy of decentralization and we went to present performances and conferences at schools in Katatura (the still existing township of Windhoek), the International School and the University of Namibia (UNAM). At the Katatura schools I was transformed into a bouncer to keep people away from the Ovahimba, touching their plats and other parts of their attire and so on; the Ovahimba were received like rock stars by the children, who had never before seen their compatriots in real life.
I went around with a wet cloth to wipe off the red unction as it was smeared on furniture, toilet seats, etc. explaining to everyone that it is a pigment and not dirt; it turned out not to be a problem for anyone. I arranged for long strips of red ochre colored canvas cloth to place on chair of theaters and conference centers to avoid the otjize unction from staining furniture, there again, everyone understood and there was no problem.
My main fear was that of racism and when it did occur, the Ovahimba group proved to be stoic, became a little pale, but remained dignified and the author of the incident was subsequently called to task, but the children of the Headman, as children of the ancient African aristocracy, with strategic thinking and acting as part of their everyday vocabulary, knew how to rise above the occasion.
Question 3:  Did the dynamic of interaction change in any way between you and the tribe after the exhibit?
— After the exhibition, there were many in-the-hut ruminations about what happened in Windhoek, one of which is included in When Visitors Come: on that occasion, on film, it was decided that the next destination for our work on Ovahimba culture would be Paris!
Also, on any subsequent occasion, Kakaendona organized an Ondjongo dance play session; I then explained to her that we should go beyond the notion of performance and aim for knowledge exchange workshops for the Paris leg of our work. I have tried to find funding for this project in Paris, but shied away from some of the opportunities, since the impression I got was that it would be a case of getting Africans from the North and the South to meet in Paris, or let the Africans dance in Paris, and that is a far cry from what we had in mind. Once when Kakaendona and some of my other "sisters" visited Windhoek, I took them to Katatura after having taken them to a gala funding dinner at a five star hotel. When we got back home, they said they did not want to go to Katatura again but only to the dinners like the other night. I could hence not envisage to have them participate in North-South encounters in Paris. Would Western audiences be open to knowledge exchange on various topics with the Ovahimba? It remains an open question to which I still have to find an answer, and at times I think that NY would perhaps be a more adequate venue. It is a matter of time and energy to develop this leg of the project.
Question 4:  As a documentarian and anthropologist, how much do you think your interactions with the tribe effect the end documentation?  Do you think it ultimately hinders?  Helps?  Or does it perhaps offer an all new lens for the masses to view their culture from?  Do you think it effects "accuracy"(a broad term, I know)?
Rina:  My relationship with members of the community of Etanga and its outskirts directly affected the results of my documentation, for the simple reason that I systematically practiced feedback with all recorded materials. I showed rushes back to the people filmed on a daily basis, gave photographs to almost everybody photographed, showed edited films when I returned—some that have been completed since have not yet been shown. People would comment on what and how I filmed, would make suggestions on what to film next or simply call me to come and film when they thought it was necessary. I became a kind of public scribe, called to film community meetings and customary law procedures. I alsoshowed some of Jean Rouch's films to them on a double band 16mm projector and a sheet hanging from a tree. At first, I translated the French into English / Afrikaans for one of my assistants who then translated into Otjiherero. After a while, my assistant said, "Dokota, I can see what is happening, you do not need to translate and he continued to improvise commentary on the film, much in the way Rouch devised the commentary of some of his films, such as Jaguar.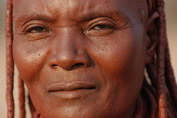 Their participation is a positive contribution in the sense that there is no objective reality, there is only point of view; mine, theirs, and ultimately the result of my work is my vision influenced by our relationship and often times their direct input. For example, Kakaendona soon learned to know when I was filming from watching my body tension; she would then act up or down accordingly. At times, and there is one such occasion in When Visitors Come, during the performance at the International School, when she notices that my body tension was dropping, that is, she knew I was going to stop filming, she turned her head to me and with her eyes lead me to the protagonist, Vuaanderua, hence indicating to me that her apparent stillness was a pause and that there was more to come, that I should not stop filming.
I very rarely ask direct questions, I never comment on anything religious or political, I wait for things to happen, to come my way, to be suggested to me and when they open up, I make sure I am ready to enter the occasion. I make sure I maintain a level of availability at all times, not an easy thing to do at all, but it is the only way.
I do hope that the way I present my work, be it in text, image, still and moving, makes it accessible to both the academic world and the public at large. Ordinary language provides more than enough scope to state things clearly, and I try to do that. I am aware though that seven years is a short time to learn about a culture, a lifetime is needed. I did not scoop off more than the froth. That is why I try as often as possible to have members of the Ovahimba community present for presentations; they are the only people that can legitimately represent their culture. My representation is always only a point of view, with what it may contain in subjectivity and error. Ethnography is fiction, at least to a degree. There is no accuracy, even from an Omuhimba point of view; no two people from a same community will always represent their culture in exactly the same way; that is not the purpose of the exercise. Anyone who pretends to achieve total accuracy, at least in a work of the mind, is intellectually dishonest.
Excerpts from  When Visitors Come:
Links to excerpts:
https://www.youtube.com/watch?v=6pk97zQW6A4
https://www.youtube.com/watch?v=jkxbmjU-v-Q
Next Week we will feature Rina's film:  Wiping the Tears
To see last week's feature on Rina herself, click here.