Home » Featured
Jenn Warren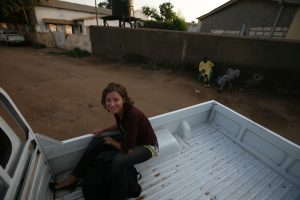 Jenn Warren is a professional photographer based in Juba, South Sudan, specializing in humanitarian and development projects. Her work has been published in the Sunday Times Magazine, Rolling Stone, TIME, BBC News Online and AlJazeera.
Clients include Save the Children, Medecins sans Frontierés, UNHCR, UNICEF, PSI, International Committee for the Red Cross, USAID, DFID, UNESCO, CARE International, Amnesty International and the National Democratic Institute. Her photography is exhibited and collected internationally.
Jenn now works with Save the Children as a full-time Communications Manager, handling documentary coverage of the organization's programming in South Sudan, international and national media requests, Behavior Change Communication materials for communities in South Sudan, and other internal materials.  She is proficient in Arabic and American Sign Language.
TribalTruth is featuring Jenn Warren's photographs and collaboration with Medecins Sans Frontieres entitled Facing Up to Reality.
Health Crisis Deepens as Violence Escalates in South Sudan
Médecins Sans Frontières (MSF) provides care to millions of people in six states in South Sudan. The latest wave of tribal violence in Jonglei state, and the targeting of three MSF health facilities, has made it extremely difficult for MSF to reach people in need of aid.
Conflict between various ethnic groups in Jonglei state has been ongoing for decades. The last spike in violence occurred in 2009, with thousands of people killed and displaced. 
MSF has demonstrated its complete impartiality and neutrality over the years, working in many different communities in South Sudan.  In 2011, three MSF medical facilities were targeted in Jonglei State. MSF condemns the targeting of medical facilities by any armed group, and commits to continuing to bring humanitarian aid and medical assistance to the population of Jonglei State.
Present in the most rural and neglected regions of South Sudan, Médecins Sans Frontières has been active here since 1979. Rural villages, home to millions of South Sudanese, are completely cut off and suffer greatly from the most basic of medical needs and emergencies. 
South Sudan is desperate for the most basic of services - clean water, access to food, education and health care. The further deteriorating security situation only adds to this humanitarian emergency where medical needs are critical. Acute malnutrition, malaria, kala azar, and outbreaks of preventable diseases such as meningitis and cholera, are a constant threat to the population, and mortality rates for pregnant women and children in the new nation are the highest in the world. 
Stay updated on MSF's work in South Sudan here:
http://www.msf.org/msf/where-we-work/africa/south-sudan.cfm
Download the 2009 MSF report here:
http://www.jennwarren.net/content/MSF_SSudanReport_12:09.pdf
To view more of Jenn Warren's work, please visit her website http://www.jennwarren.net/
Tags: aid, Arabic, basic services, children, cholera, clean water, Communications Manager, conflict, displacement, documentary photography, education, food, health care, Health Crisis, humanitarian aid, Jenn Warren, Jonglei, Juba, killlings, malnutrition, Medecins sans Frontieres, medical assistance, meningitis, mortality rates, pregnant women, Rolling Stone, rural villages, Save the Children, Sout Sudan, Time, tribal violence, UNICEF