Home » News
The "Make It Better Project" update
Submitted by TT2025 on

July 31, 2011 – 6:33 pm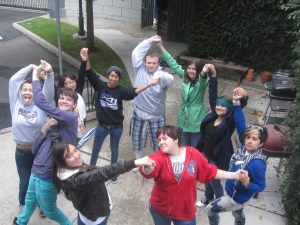 An October 5, 2010 Tribal Truth article featured the "Make It Better Project," an initiative to end bullying in schools against LGBT (Lesbian, Gay, Bisexual, Transgender) children. The "Make It Better Project" was launched October 1, 2010, receiving inspiration from a video posted by gay columnist Dan Savage entitled "It Gets Better." In the Video, Savage and his husband, Terry, describe their childhood struggles with constant bullying that attacked their sexual orientation. The movement, sponsored by the Gay-Straight Alliance, only continues to grow.
The "Make It Better" Project has made tremendous strides in its 10 months of existence gaining endorsements from 90 humanitarian organizations, and reaching countless individuals through the use of social media websites such as Facebook, Twitter and YouTube. The "Make It Better" website features advice to parents and teachers and students to help make schools safer and more accepting for LGBT children. It also features videos of individuals who want to share their story, or give advice and hope to those in need. The "Make it Better Project" addresses a very serious and real bullying problem in the American school system, which has lead to feelings of anxiety and depression in many children often even resulting in suicide. Organizations such as the Make it Better Project" create hope and provide reassurance and support for LBGT individuals struggling for acceptance.
The United States has become more accepting of LGBT people in the past 50 years following the Civil Rights movement in the 1960's. The last ten years though have seen the most progress to date with regard to LGBT rights. On June 24, 2011 New York became the sixth state to recognize same-sex marriages following Massachusetts, Connecticut, New Hampshire, Vermont and Iowa. (Washington D.C. also allows same-sex marriage). Without the relatively new medium of social media however, such outreach could not be possible.  Social Media has transformed the ability to promote a cause and link people not only nationally but also globally. Social media sites such as Facebook, Twitter, and YouTube provide users with the ability to express themselves and share experiences with others whether it be via written word, photography or video. As demonstrated by the "Make it Better Project's" success and growth in under a year, the use of social media is a powerful tool that can convey a message to the world.
Julian Dufault - TribalTruth contributor
Tags: acceptance, anxiety, bullying, children, Dan Savage, depression, Facebook, Gay-Straight Alliance, global outreach, hope, Julian Dufault, LGBT, Make It Better Project, same sex marraige, school, social media, suicide, support, Twitter, videos, YouTube