Home » Featured
Wendy Marijnissen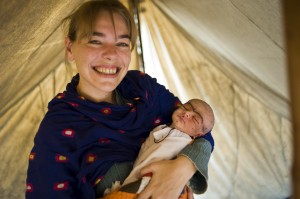 Wendy Marijnissen is a freelance documentary photographer from Antwerp, Belgium.
She started out photographing part time in the theatre and music world in Belgium, soon after she  went looking for stories with a wider social context.
She has worked on a long-term reportage project  in Israel and Palestine, using music to show a different part of the daily life in this stressful and violent region. Showing how culture manifests itself in these communities and showing other aspects of their  lives.
She continues to work extensively in the region. After covering the East Jerusalem home evictions in 2009, she's working on a new project about childbirth and maternal mortality in Pakistan. She recently went back to Pakistan to cover the aftermath of the devastating floods and continues documenting the conditions of childbirth and maternal health.
She is one of the finalists for the FotoVisura Grant 2010 with her work 'Every woman counts' which won an honorable mention.
TribalTruth is pleased to present Wendy Marijnissen's photographs of Pakistan.
 Wendy Marijnissen has photographed extensively in the Middle East. To see more of her work, visit her website here.
To see a multimedia presentation of Wendy Marijnissen's work click here
Tags: Antwerp, Belgium, childbirth, documentary photography, East Jerusalem, Fistula, FotoVisura grant, Israel, maternal health, Pakistan, pakistan floods, pregnancy, Wendy Marijnissen