Home » Featured
George Georgiou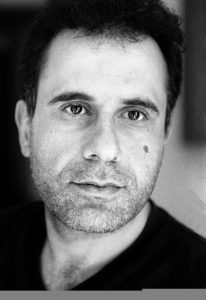 George Georgiou was born in London in 1961. After completing a BA in photography at the Polytechnic of Central London in 1987, he has worked as a freelance photographer represented by Panos Pictures, UK and Prospekt, Italy.
George  Georgiou has photographed extensively in the Balkans, Eastern Europe and Turkey for the last decade, living and working in Serbia, Greece, and for five years in Istanbul, Turkey.  His  work is focused on transition and identity and how people negotiate the space they find themselves in.
 He has since moved back to London where he has started a major project on contemporary London called Invisible, to be published as a book in 2012.  George has also finished a project on Georgia and Ukraine, in relation to Russia called   "The shadow of the Bear".  He is now in the editing stage for the book, to be published in the Spring 2011.  His work is also included in 2 recent books, Contact Sheet by Ammo books and Street Photography Now by Thames and Hudson.  
George Georgiou has been published throughout Europe and US including: Independent, Sunday Times, Observer magazines, Newsweek, US News & WR, New Yorker, Il Mundo, La Republica, Der Spiegel, Stern,and Geo.  He has exhibited his photographs all over the world.   He has also won numerous awards and grants. 
TribalTruth is featuring George Georgiou's photographs of Turkey  featured in his book  Fault Lines/ Turkey/ East/ West which  was published as a co-edtion in 4 languages. His images gives us a glimpse of  everyday life in Turkey.  Here is a short essay on the project.
Turkey is one of the most strategically important of nations - poised geographically and symbolically, between Europe and Asia. But the tensions at the heart of Turkey are becoming increasingly pronounced.  A struggle is taking place between modernity and tradition, Islamism and secularism, democracy and repression, often in unlikely and contradictory combinations.
At the same time, Turkey is undergoing rapid change, landscapes, towns and cities are being reshaped, town centres, "beautified" and large apartment blocks are springing up in every town and city throughout Turkey. Often the architecture and infrastructure are from the same blueprint. Cities are beginning to become carbon copies of each other and the nature of community begins to change.
Georgiou's photographs explore and question this concept of East/West and the many complex fault lines at play in contemporary Turkey.
Traveling across the country and focusing on everyday life and the dramatically altered rural landscape, the work captures the effects of this modernization and urbanization on Turkey's national and cultural psyche against a backdrop of raising nationalism and religion at a time when Turkey finds itself at a political crossroads, a crossroads that will define it's very future.
Running parallel to the local issues, the work also addresses and questions more global issues of modernization and urbanization and the changing landscape.
To see more of
George Georgiou's
photographs visit his website
here
Tags: architecture, Balkans, Contact Sheet, culture, documentary photography, Fault Lines/Turkey/East/West/, George Georgiou, Georgia, Greece, Il Mundo, infrastructure, Islamism, Istanbul, modernization, nationalism, New Yorker, Newsweek, Panos Pictures, Prospekt, Russia, secularism, Serbia, Spiegel, Stern, Street Photography Now, tradition, Turkey, Ukraine, urbanization