Home » Featured
Simon Roberts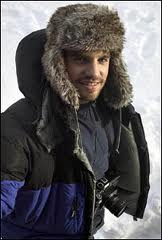 Simon Roberts (b.1974) graduated with a first class BA (Hons) Degree in Human Geography from the University of Sheffield and a Distinction in Photojournalism from th NCTJ, Sheffield College. His photographs have been exhibited widely with recent shows at the National Media Museum, UK and the Museum of Contemporary Art, Shanhai. They are represented in major public and private collections, including the Deutsche Borse Art Collection, George Eastman House and Wilson Centre for Photography. In recognition for his work, Roberts has received several awards including the Vic Odden Award from the Royal Photogrphic Society (2007), a grant from the John Kobal Foundation (2008) and most recently commissioned as the Election Artist by the House of Commons Works of Art committee. He has published two monographs, Motherland (Chris Boot, 2007) and We English (Chris Boot, 2009).
Simon Roberts travelled throughout Russia between July 2004 and August 2005, making pictures in over 200 locations and creating one of the most extensive, comprehensive photographic accounts of this vast country by a Westerner. His images are not cliched representations of a Russia ground down by poverty and despair; rather, he presents a beautiful and awe-inspiring land, with a dignified people empowered by a growing optimism and a deep rooted sense of national esteem. Intimate and revealing portraits of contemporary Russia show us a diverse people, united by a sense of common identity and connected by a shared love of 'the Motherland', while breathtaking landscapes reveal the complexity and uniqueness of the country.
Tribaltruth is excited to present some of Simon Roberts' photographs of Russia  from his project entitled ' Motherland '.
To see more of Simon Roberts photographs visit his website here
To learn more about his book Motherland click here
Simon Roberts is represented by The Photographers' Gallery in London, Klompching Gallery in New York, Robert Morat Galerie in Hamburg and MC2 Gallery in Milan.
Tags: dignified people, documentary photography, empowerment, George Eastman House, john Kobal Foundation, Kompching Gallery, landscapes, MC2 Gallery, Motherland, National Media Museum, portraits, Russia, Sheffield College, Simon Roberts, The Photographers Gallery, Vic Odden Award, We English