Home » Featured
Fikru G Miriam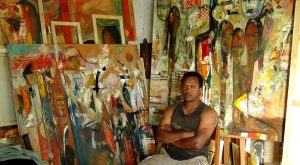 Fikru G Miriam is a painter from Ethiopia. He began painting when he was 11 when he was enrolled in the children's program at the Addis Ababa School of Fine Arts. He graduated from the School of Fine Arts in 1995 and he decided to dedicate his life to painting full time.
Fikru's paintings have some traditional Ethiopian themes, along  with warm African earthtones. Some of his paintings depict stylized  elongated African masks, others are influenced by Harari women- who are highly decorative in the way they dress- and others are just purely abstract creations.
Fikru spends half of his time in Addis Ababa, Ethiopia and the other half in his studio in Paris, France.  He says it is necessary for his art  to stay close to his Ethiopian roots, but also valuable  to leave Ethiopia and be exposed to Western culture through museums and art galleries in Paris.
TribalTruth is excited to present a gallery of Fikru G Miriam's paintings.
To see more of Fikru's painting go to his website: http://www.fikru.fr/
To read a more thorough article about Fikru by Donald N. Levine click here
Tags: abstact, Addis Ababa, Africa, African mask, culture, Donald N. Levine, Ethiopia, Fikru G Miriam, France, Harari women, painter, Paris, School of fine Arts