Home » Humanitarians
Glen Hansard Raises Money for Maasai Truck
Submitted by TT2025 on

October 4, 2010 – 1:01 pm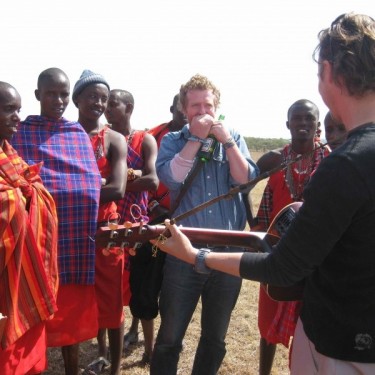 Academy Award-winning musician Glen Hansard is raising money through benefit concerts and the website Crowdrise to send a truck to a conservation group in Kenya.
Glen Hansard is one half of the group the Swell Season, and he is best known for his starring role in the film Once and the Oscar-winning song "Falling Slowly." Earlier this year, actor Edward Norton invited Hansard to travel to Kenya and visit with the Maasai Wilderness Conservation Trust. During their trip, they learned about the organization's Simba Project which is improving the lion population by paying ranchers for lost livestock and hiring local game scouts. According to the MWCT website, the Maasai warriors used to spear lions to prove their manhood, but the MWCT has charged Maasai warriors with the task of being "guardian[s] of the lions" so they now protect the lions of Kenya. Their program has already caused a huge shift in the lion population, but they expressed to Norton and Hansard that their program would be much more efficient if they had a Landrover.
Hansard came back to the states invigorated and ready to help. He lined up two benefit shows in Los Angeles this past March and had another benefit show in New York City. These concerts gave him and Norton a strong start towards the $70,000 they needed to send a Landrover to Kenya, but they are still raising money for the project through the website Crowdrise. They even added an incentive to give to the project. Everyone who donates $29 or more towards the cause is entered to win an Apple iPad, and everyone who donates is added to the website's rolling donations ticker.
To read more about the MWCT, check out their website at http://www.maasaitrust.org/, and help Hansard and Norton reach their goal by donating at http://www.crowdrise.com/maasaivillagersneeda/fundraiser/edwardnorton/27.
Tags: actor, Africa, art, benefit concert, collaboration, community empowerment, concert, conservation, Crowdrise, Edward Norton, empowerment, environment, Falling Slowly, fundraiser, Glen Hansard, grassroots, iPad, Kenya, Landrover, lion, Los Angeles, Maasai Wilderness Conservation Trust, music, New York City, Once, philanthropy, Simba Project, social change, solutions, sustainable environment, The Swell Season