Home » Humanitarians
Digital Media and Advocacy
Submitted by TT2025 on

October 14, 2010 – 12:51 pm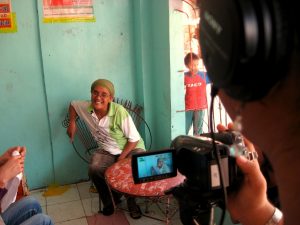 Tribal Truth recently featured the "Do You See What I See?" program which teaches refugee children in Africa photography skills. Through the program, they were able to open up about their experiences and tell their stories to each other and to people throughout the world through their Flickr page.
We recently came across some more organizations that teach film and photography to people all around the world, and we wanted to share some of our favorite organizations and programs with you.
Organization for Visual Progression: The Organization for Visual Progression screens and distributes socially-relevant films, and they teach film production to social activist groups around the world. Most recently, they had production training in Sri Lanka for advocacy groups which was attended by representatives from 13 organizations, and together, the representatives produced and screened five short-subject documentaries. Go to http://www.visualprogression.org/cms/training%20-%20archive/pfitem.php?iid=29&lng=EN to watch all five documentaries.
Impacto Project: The Impacto Project is a film and photography program aimed towards Latin American kids and teenagers. What makes the Impacto Project unique is that they teach the kids how to get paid for their work. The students are getting a chance to show their life experience to the world through photography, film, and other digital media, and profits go back to their community. Go to http://www.facebook.com/album.php?aid=106487&id=52580651977 to see a gallery of the students' work.
NYCSalt: Located in the Washington Heights neighborhood in New York City, NYCSalt teaches video production, photography, graphic design, and web design to teenagers. These classes give an advantage to teens who are interested in careers in visual arts or the media, and all participants benefit because they get a chance to express themselves creatively. Read more about their program on their blog at http://www.nycsalt-blog.org, and enroll for classes at http://www.nycsalt-blog.org/?page_id=29.
Tags: Africa, art, children, collaboration, community empowerment, Do You See What I See?, documentary, education, empowerment, film, film screening, filmmaker, Flickr, graphic design, grassroots, human rights, Impacto Project, Latin America, New York City, NYCSalt, Organization for Visual Progression, philanthropy, photographer, photography, poverty, schools, social activism, social change, social entrepreneur, solutions, Sri Lanka, Tribal Truth, Washington Heights, web design