Home » Global Initiatives
AIDG
Submitted by TT2025 on

October 25, 2010 – 10:07 am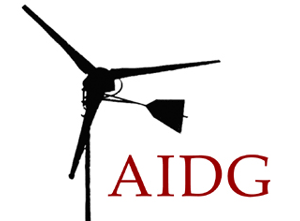 Appropriate Infrastructure Development Group, or AIDG, is a different kind of NGO. AIDG understands that not every community is created the same way. Many communities are facing similar problems like access to electricity, clean water, and sanitation, but solutions are not one-size-fits-all. Their approach gets the community involved and working to find solutions that fit their needs.
AIDG's website defines appropriate technology as technology which can be produced and maintained by small communities. Examples of appropriate technology include bio-digesters, windmills, and hydro power. AIDG works with local entrepreneurs to get appropriate technologies off the ground and turn them into profitable businesses. These businesses employ people from the community, reducing unemployment and increasing the standard of living. In Guatemala, AIDG installed a solar water heater for a child care center, promoting health and better hygiene amongst the children and the community as a whole.
For people interested in social enterprise, AIDG also offers an internship program. The program is open to professionals, graduate, and undergraduate students, and participants work in the field on AIDG's current development projects. Internship specialties include web development, engineering, and market analysis, and interns get the unique opportunity to see the impact of their work.
Although AIDG helps create small businesses, they still need funds to get these entrepreneurs started. According to their website, 95 percent of donations in 2005 went right back into their programs, so donors know that their money is making a difference.
Go to AIDG's website at http://www.aidg.org to learn more about their work around the world, and check out their YouTube channel at http://www.youtube.com/user/AIDG to see AIDG's most recent projects.
Tags: AIDG, appropriate technology, bio-digester, business, children, clean water, collaboration, community empowerment, conservation, empowerment, grassroots, Guatemala, healthcare, homeless, human rights, hydro power, hygiene, internship, NGO, philanthropy, poverty, schools, small business, social change, social entrepreneur, solutions, sustainable environment, technology, unemployment, windmill, YouTube