Home » News
United Nations Association of NY-BookTalkUNA, 9/27/2010
Submitted by dkeith on

September 9, 2010 – 11:57 am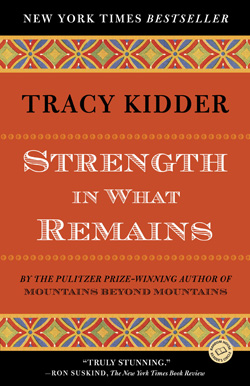 BookTalkUNA along with the Institute of International Education will be hosting a book discussion of Tracy Kidder's Strength in What Remains on Monday, September 27 at 7:00 PM.
There will be a reception from 6:30 to 7 PM followed by the discussion and a book signing with Deogratias (Deo) Niyizonkiza, the subject of Strength in What Remains.
The event will be hosted at the Institute of International Education 809 United Nations Plaza in the Kaufman Center. UNA Members can attend for free and non-members and guest can purchase tickets for $10, but all attendees including members still need reservations.
Strength in What Remains is the true story about Deo, a young medical student who fled the genocidal civil war in Burundi in 1994 for the uncertainty of New York City. Against absurd odds, he arrived with little money and even less English, and slept in Central Park while delivering groceries. His own ambition and a few kind New Yorkers led him to Columbia University and, beyond that, to medical school and American citizenship.
To purchase tickets or read more about the event, go to http://www.unanyc.org/events/current/20100927_booktalkuna_strength.html.
Tags: 809 United Nations Plaza, Africa, BookTalkUNA, Burundi, Central Park, Columbia University, Deogratias Niyizonkiza, education, empowerment, human rights, Institute of International Education, Kaufman Center, New York City, poverty, social change, solutions, Strength in What Remains, Tracy Kidder