Home » Multimedia
PEHT-"The Price of Sugar" screening, 9/21/2010
Submitted by TT2025 on

September 9, 2010 – 12:50 pm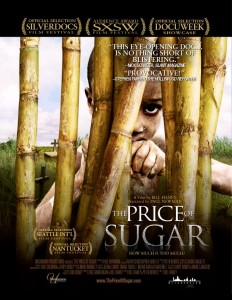 The Partnership for the Eradication of Human Trafficking will be screening the documentary The Price of Sugar at the Museum of Tolerance on Tuesday, September 21 at 6 PM.
In the Dominican Republic, a tropical island-nation, tourists flock to pristine beaches unaware that a few miles away thousands of dispossessed Haitians have toiled under armed-guard on plantations harvesting sugarcane, much of which ends up in U.S. kitchens. They work grueling hours and frequently lack decent housing, clean water, electricity, education or healthcare.
Narrated by Paul Newman, The Price of Sugar follows Father Christopher Hartley, a charismatic Spanish priest, as he organizes some of this hemisphere's poorest people to fight for their basic human rights. This film raises key questions about where the products we consume originate and at what human cost they are produced.
There will be a Q & A session after the screening with Margarette Tropnas and Dr. Roger St. Louis, and snacks and refreshments will be provided. Tickets will be available at the doors at $10 for YPIC/UNA members or $15 for non-members. Space is limited, however, so it is recommended to RSVP to ypicflagship@unasouthernny.org.
For more information about the event, go to http://www.unasouthernny.org/ypic/index.php?option=com_jcalpro&Itemid=84&extmode=view&extid=24.
Watch the trailer below.
Tags: children, collaboration, community empowerment, documentary, Dominican Republic, Dr. Roger St. Louis, education, empowerment, Father Christopher Hartley, film screening, grassroots, Haiti, healthcare, human rights, Margarette Tropnas, Partnership for the Eradication of Human Trafficking, Paul Newman, PEHT, poverty, social change, solutions, The Price of Sugar