Home » Featured
Omar El Fayoumi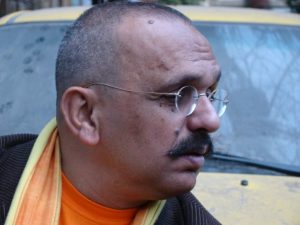 Omar El Fayoumi was born in 1957.  He graduated Faculty of Fine Art (mural painting) in Cairo, 1981.  From 1986 through 1991 he was at The Academy of Fine Art (REPIN) in St. Petersburg, Russia. He has lived and worked in Cairo since 1993.
Omar El Fayoumi has been in numerous group exhibitions and has had solo exhibitions at Espace Karim Francis, Ekhnatoun Gallery, Atelier Le Caire and The Russian Consulate Gallery.
Omar El Fayoumi is primarily a portrait painter featuring striking faces. He combines the Fayum style of painting -  the modern term to a type of realistic portrait painted on wood and attached to mummies from Roman Egypt - with modern painting techniques and colors. His portraits have an ancient, soulful look yet are set in modern settings such as cafes and coffeee houses. They take you right to  Cairo. TribalTruth is pleased to present a gallery of his work.
To see more of Omar's paintings check out these picasa web albums #1 and #2
Tags: Atelier Le Carre, Cairo, Egypt, Ekhnatoun Gallery, exhibitions, faces, Faculty of Fine Arts Cairo, Fayum, Karim Francis, mummies, mural painting, Omar El Fayoumi, On Caravan, painter, painting, portaits, Russia, St. Petersburg