Home » Featured
Al Assmaa Essam Taki-Deen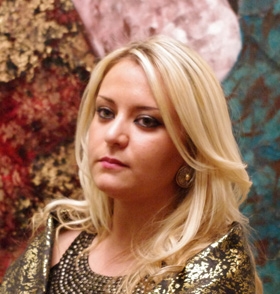 Al Assmaa Essam Taki-deen is a Syrian artist, from a Turkish mother, born in Kuwait. She graduated from faculty of fine arts (sculpture) Helwan University,Cairo in 2004.  She was lucky to be trained by leading Egyptian artists like ABED HADI EL WISHAHY , FAROUQ IBRAHIM, AHMED GAD ANDAL SHIKH. After graduation she started her career as an interior designer with her family owned company NOKOUSH - a leading design atelier specializing in Arabic and Islamic interior work and furnishings - which is trying to revive the Islamic heritage.  She opened her eyes to see the beauty of her Islamic culture and started to translate that love into her paintings, influenced by the Ottoman, Syrian and Egyptian cultures. She tries new techniques  and uses  traditional fabrics such as  Brocade  - silk textiles loomed and dyed with all natural pigments hand made in Syria.  Her works reflect the Arabic traditions with oriental spirit using strong powerful colors and several effects such as hatching and embossing.   Her love for Islamic motives appears in  almost in all her work.
Al Assmaa Essam Taki-deen has participated in many collective exhibitions in Cairo, Lebanon and Syria. TribalTruth first saw her work on the Caravan website which promotes collaboration between East and West cultures through art.  This year she has had 2 solo exhibitions. One show was at the Easel and Camera Art Gallery (In The Love of Allah) 2010 and the other was at Al Kahila Art Gallery (Women of Egypt) 2010.
TribalTruth is happy to a present a gallery of her work.
You can see her work in person at Nokouch 7b road 199.degla maadi Cairo, Egypt.
She also has a facebook page Al Assmaa Arts
Tags: Abdel Hadi El Wishashy, Ahmed Gad Andal Shikhl, Al Assmaa Essam Taki-deen, Arabic, artist, brocade, Cairo, Egypt, Farouq Ibrahim, hand dyed, hatching, Helwan University, inspiration, Islamic ornaments, Kuwait, Middle Eastern culture, Nokoush, Ottoman, painter, symbols, Syria