Home » Featured
StoryCorps
Submitted by TT2025 on

August 20, 2010 – 4:19 pm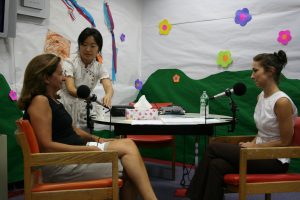 StoryCorps is changing the way that people view American history.
Founded in October 2003, StoryCorps opened their first StoryBooth in New York City's Grand Central Station Terminal. Their mission was to record audio interviews with people from all walks of life. They met couples celebrating 50 years of marriage, people struggling with terminal illness, players in major social movements, single parents, parents of children with disabilities, and seemingly ordinary people who had experienced extraordinary things.
For the past 4 years, StoryCorps has run a Memory Loss Initiative which encourages Alzheimers and other memory loss patients to record their memories. This way, their stories can be shared with future generations. Since then, StoryCorps has started other specialized initiatives including StoryCorps Griot which records the stories and memories of African Americans and an initiative for people affected by the September 11th attacks.
The interviews collected by StoryCorps give an incredible look at American culture. After listening to the people who were involved in the Stonewall Riots, rescue efforts on September 11th, and Hurricane Katrina, these events are richer and more powerful than if a person simply read about it in a history book. The interviews give a face to single parenthood, Asperger's Syndrome, and Alzheimer's, and in the process, they raise awareness about cancer research,
Tribal Truth is not the only fan of StoryCorps' work. In 2007, StoryCorps was recognized with the prestigious Peabody Award, and due to the popularity of their interviews, StoryCorps has released several books including Listening Is an Act of Love and Mom: A Celebration of Mothers from StoryCorps.
Check out StoryCorps' website at http://www.storycorps.org to listen to interviews and donate to StoryCorps.
Also, be sure to watch the animated interview of real-life couple Danny & Annie from StoryCorps on Vimeo.
Tags: art, collaboration, conservation, documentary, education, empowerment, filmmaker, New York City, social change, social entrepreneur, solutions, StoryBooth, StoryCorps