Home » Multimedia
Rooftop Films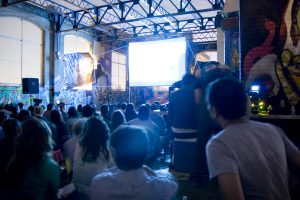 Rooftop Films is probably best known for their outdoor film screenings on New York City rooftops, but this non-profit arts organization offers so much more to fans and filmmakers alike.
Screenings by Rooftop Films feature films like the upcoming Allen Ginsberg biopic Howl, Spike Jonze's I'm Here, Funny or Die's Drunk History, and Let's Harvest the Organs of Death Row Inmates, a controversial animated short about the death penalty in America.
Tickets for screenings are usually around $10, but they also offer some free screenings throughout the year. A portion of the ticket sales go to the Rooftop Filmmakers' Fund which last year gave away over $30,000 in cash and services to up-and-coming filmmakers. They also rent out film and sound equipment at affordable rates.
Rooftop Films also encourages young peoples' interest in filmmaking through their partnership with Automotive High School in Brooklyn. Students get a chance to study film trends, learn how to storyboard stories, and get hands-on production experience.
To learn more about Rooftop Films and find a screening near you, go to http://www.rooftopfilms.com.
Tags: Allen Ginsberg, art, artist, Automotive High School, Brooklyn, children, collaboration, community empowerment, death penalty, documentary, Drunk History, education, empowerment, film screening, filmmaker, Funny or Die, Howl, I'm Here, Let's Harvest the Organs of Death Row Inmates, manhattan, New York City, Rooftop Films, social change, social entrepreneur, solutions, Spike Jonze