Home » Global Initiatives
Camfed USA
Submitted by TT2025 on

August 6, 2010 – 3:45 pm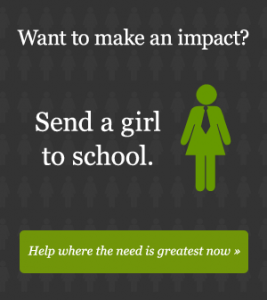 Camfed's primary mission is to help African girls stay in school despite financial difficulties.
Schools keep an eye out for girls who are likely to drop out of school due to financial reasons, and Camfed takes care of all expenses including books, school uniforms, and boarding.
These girls want to be doctors, lawyers, business owners, and filmmakers, and they aspire to be examples to their families and communities. Camfed gives them the chance to follow their dreams by financially supporting these girls all the way through high school and college, and at last count, Camfed has worked with over a million students.
The best part about Camfed is the far-reaching impact of their work. Educating women strengthens a community as a whole, and these women in turn help the next generation. Cama, the Camfed Association, is made up of women who are assisting even more girls coming through school. Their 14,005 members are currently supporting 118,384 children.
To read more about Camfed and how you can support their cause, go to http://us.camfed.org.
Camfed also produces short films about the girls in the program and encourages women in the program to become filmmakers. To view some of their short films, go to http://us.camfed.org/site/PageServer?pagename=film_short
Tags: Africa, art, Camfed, children, collaboration, community empowerment, documentary, education, empowerment, filmmaker, girls, human rights, philanthropy, poverty, social change, social entrepreneur, solutions, women