Home » News
Camfed Graduate Invited to White House
Submitted by TT2025 on

August 6, 2010 – 4:25 pm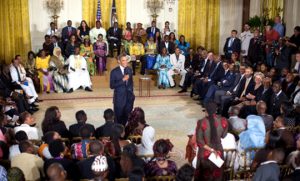 Tribal Truth recently did a profile on Camfed, an organization dedicated to helping African girls stay in school and receive a higher education, and this week, a Camfed graduate was invited to the White House.
Abigail Kaindu, a former Camfed student from Zambia, was in Washington for President Obama's Forum with Young African Leaders. There were 115 representatives present from 40 countries in Africa including Somalia, Ghana, South Africa, Uganda, and Rwanda. Topics ranged from government corruption, HIV/AIDS, and future partnerships between the United States and Africa.
To learn more about the event, read about it on Camfed's blog at http://news.camfed.org/us/2010/08/abigail-goes-to-the-white-house/ or check out the White House coverage of the event at http://www.america.gov/young_african_leaders.html.
Tags: Africa, AIDS, children, collaboration, community empowerment, education, empowerment, girls, HIV, human rights, philanthropy, poverty, social change, social entrepreneur, solutions, women, Zambia