Home » News
Nelson Mandela Foundation: "The Necessity of Art"
Submitted by TT2025 on

July 29, 2010 – 2:27 pm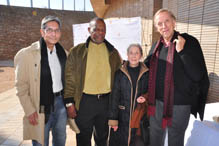 The Nelson Mandela Foundation hosted a conversation between Achmat Dangor, Mongane Wally Serote, Nadine Gordimer, Elinor Sisulu, and Ariel Dorfman about the role of art in strengthening democracy.
The discussion entitled "The Necessity of Art: Reflections on Writers and Artists in Defeating Oppression and Deepening Democracy" was held at Freedom Park in Pretoria. This excerpt is from the news article on the Nelson Mandela Foundation website:
The discussion – which was hosted by the Nelson Mandela Foundation in conjunction with Freedom Park and wRite Associates – was led by Serote and he started the conversation by introducing the discussants as not just critically-acclaimed writers but also people of strong opinion.

He said: "I want to introduce them as people who hold very strong views. They are fighters in their own right and they are people [who] are not afraid to makes choices and decisions whether they are popular or not."

Serote explained that he had lived long enough to see that democracy is susceptible to "total abuse" and that intellectuals want to push boundaries and innovate to make the world a better place. He then called on Dorfman to start the discussion on how writers contribute to building stronger democracies.
To read the full article, click here or go to http://www.nelsonmandela.org/index.php/news/article/ariel_dorfman_and_african_writers_discuss_the_role_of_art
_in_strengthening/
Tags: Achmat Dangor, Africa, Ariel Dorfman, art, Chile, community empowerment, democracy, education, Elinor Sisulu, Freedom Park, human rights, Mongane Wally Serote, Nadine Gordimer, Nelson Mandela, Nelson Mandela Foundation, Pretoria, social change, South Africa, writer