Home » Featured
Malcolm Morley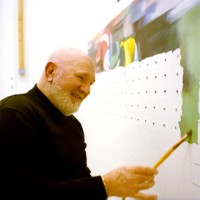 Malcolm Morley  is a British-born painter who has lived in the U.S. since 1958. He is credited with initiating two influential art movements in the 20th century - Superrealism and Neo-Expressionism. He is a colorful, interesting man. He started painting in prison, and when he was released, he studied art at Camberwell School of Arts and then at the Royal College of Art. In the mid  1960's, he began producing photo based paintings that he termed "superrealist". In the 1970's his work became more expressionistic. In recent years, Morley has returned to his photorealist roots - paintings which take their images from sports photojournalism. As striking as his subjects are, the real focus of his work is painting itself - the art of picture making and representation.
Malcolm Morley is represented in New York by Sperone Westwater and in Brussels by Xavier Hufkens.
A good biography of Malcolm Morley can be found in the book Malcolm Moreley: Itineraries by Jean - Claude Lebensztein
Malcolm has lived in Bellport, Long Island since 1983.
To watch a 3 part conversation with Malcolm Morley click here Malcolm Morley Interview Part 1,
Malcolm Morley Interview Part 2, Malcolm Morley Interview Part 3
Here is a small sampling of some of Malcolm paintings and watercolors.
Tags: art, Barnett Newman, Brice Marden, British, common man, leisure, Malcolm Morley, Neo-Expressionism, painter, Sperone Westwater, Superrealist, Xavier Hufkens