Home » Humanitarians
Donna Katzin
Submitted by TT2025 on

July 28, 2010 – 4:12 pm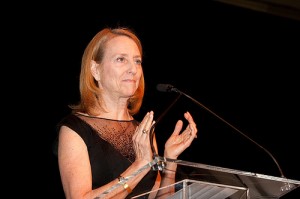 Donna Katzin is the Founding Executive Director of Shared Interest, an organization which has worked together with South Africans to start new businesses, open new doors, and strengthen South Africa's economy. Since 1994, Shared Interest has enabled low-income communities to receive bank loans.
Before becoming Shared Interest's Founding Executive Director, Donna Katzin spent eight years as the Director of South Africa and International Justice Programs for the Interfaith Center on Corporate Responsibility. She is a board member of the Thembani International Guarantee Fund in South Africa, Dos Pueblos, and the Jewish Funds for Justice, and she also has a master's degree in Community Organization and Planning and a doctorate in Human Services Education and Development.
You can watch Donna Katzin speaking at Shared Interest's 60th Anniversary event below.
Tags: apartheid, community empowerment, Donna Katzin, Dos Pueblos, economy, Interfaith Center on Corporate Responsibility, Jewish Funds for Justice, poverty, Shared Interest, social change, social entrepreneur, South Africa, Thembani International Guarantee Fund in South Africa